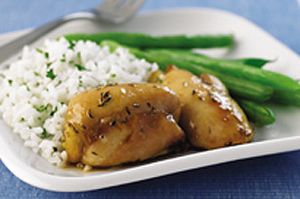 Chicken Thighs Dijon Style 
I got this recipe from a cookbook by Jacques Burdick called French Cooking En Famille (1989). The blurb on the front by M.F.K. Fisher sold me on it and, though it's a bit tattered and spattered, I sometimes like to pick it up just for the writing. I find Elizabeth Davis to be much the same way — I'm quite happy to read her observations on food and of her interest in life.  
This is a great Autumn dish, rich and comforting but one can still imagine eating it outdoors on a warm afternoon in the grape arbor.  
I've increased the amount of herbs from the original. The measurements below are the original for the recipe but I usually use about ½ lb of mushrooms and one large white onion, coarsely chopped. So, here it is:  
Les Cuisses de Poulet a la Dijonnaise  
6 - 8 plump chicken thighs — trimmed and skinned if you want  
1 Tablespoon of kosher salt  
1 Tablespoon of coarsely ground black pepper  
1 teaspoon dried thyme  
1 teaspoon of crumbled marjoram  
3 Tablespoons of sweet butter  
3 Tablespoons of vegetable oil  
¼ cup of dijon mustard 
6 - 8 large white mushrooms or equivalent (I use about ½ lb. small white 'shrooms) 
4 small white onions (I use one large white onion, coarsely chopped.)  
3 plump garlic cloves, peeled  
½ cup dry white wine  
½ cup heavy cream  
Preheat the oven to 350º  
Sprinkle and rub into the chicken with the salt, pepper, thyme and marjoram.  
Heat the butter and oil and brown the chicken  
Place the chicken in a foil lined pan and brush liberally with dijon mustard  
Place in the middle rack of the oven and bake for about 40 mins.  
Slice the mushrooms and chop the onion coarsely (if using one large onion; if using small onions, quarter them.) Peel and slice the garlic.  
Dredge the mushrooms, onions and garlic in the flour. (If you want this dish to be gluten-free just skip this.) 
Depending on the amount of fat in the pan, either discard some or add more — if you leave the skin on the chicken there'll be plenty of fat.  
Toss the vegetables in the hot fat, scraping the bottom of the pan and cook on low heat for about 10 minutes.  
Add the wine and deglaze. Cook for another couple of minutes.  
Add the cream and cook on low until the sauce thickens, remove from the heat and stir in any left-over dijon mustard.  
Strain the vegetables out of the sauce and place in the bottom of a buttered serving dish.  
Place the thighs on top of the vegetables  
Pour the sauce over the thighs.  
You can now brown the dish under the broiler if you want.  
Burdick recommends sautéed green beans and buttered rice as accompaniments. And, of course there's that bottle of white wine to be finished.