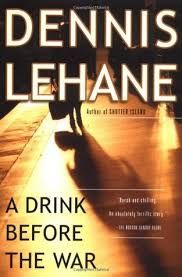 A Drink Before The War  
Dennis Lehane  
This is the book that made Lehane's reputation. It won the Shamus Award the year it was published (1994)  and introduces the PI duo of Patrick Kenzie and Angela Gennaro. I'd not read any Lehane before this and, though I'd heard a lot about his work, I was a little hesitant. I'd heard his books described as 'gritty' — which often means violent and which is not particularly my preferred style — though it can be carried off very well. His historical novel, The Given Day, was met with very positive reviews and was heralded as proof that Lehane was a fine writer and had moved "far beyond the confines of the crime genre". I'm a little suspicious of mystery writers that are hailed a 'good writers'. They seem to want to live up to the accolade and have a tendency thereafter to produce large, ponderous tomes. Not what I want in a mystery. I do like my characters to be three-dimensional and complex so that I care about them and their doings but P.D. James, for instance, produced wonderful mysteries before becoming too enamored of the inner life of Adam Dalgleish.  
So, I started reading and the style is brisk and moves along at a nice clip. The narrator, Patrick Kenzie, is chatty and self-deprecating in a wise-guy sort of way but charming and insightful, too. He notes, for instance:  "That's the thing about being a victim; you start to think it'll happen to you on a regular basis. It's living with the reality of your own vulnerability, and it sucks."  
We get the set-up for the story — some Boston politicians want him to recover some documents that were pilfered by a cleaning lady  from the office of one of them. The fee is generous and the job looks to be straightforward. And from there the plot thickens.  
The main character, Patrick Kenzie, is the son of a Boston hero fireman, whose fame and brutality have overshadowed the life of his son. His partner, Angela Gennaro, is a childhood friend and is married to Phil, also a one-time childhood friend and now a serial wife-beater. (Family abuse features quite a lot in this book). There is an awkward sexual chemistry between Kenzie and Gennaro that is only made more awkward and annoying by Kenzie's flirting, wise-guy, macho posturing. For a while I really started to dislike him. But when Angela puts her foot down and as the story becomes more serious Kenzie gets a grip on his harassing ways and the relationship matures into one of mutual respect and grown-up behavior. This was a risk on Lehane's part and, though my description of it is simplistic, it's carried off very convincingly and it was a turning point in the book for me.  
There's plenty of local color in the book not to mention corrupt pols, gang warfare, child abuse, race relations and violence. But it's an engaging book and the pundits were right — Lehane can really write.