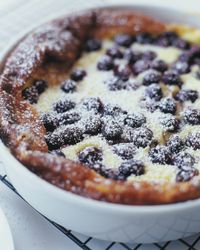 It happens every year with some fruit or another. The crop has ripened and all of a sudden there's this great but brief abundance. Sometimes it will be strawberries or raspberries or mangos — sometimes it seems as if everything has come into lusciousness at the same time and a trip to the fruit section of the market is a cornucopia of choice.  
I remember, years ago, being in the Mercado Da Ribeira in Lisbon just at the beginning of the cherry season and being almost overwhelmed by the smells and colours and the sheer abundance of all the fruits available. There is something almost transcendent about such bounty.  
In the market this week the fruit superstar has been blueberries. They've been practically giving them away, so I had a look through one of my  favourite cookbooks — Fresh Food Fast by Peter Berley — and found a recipe I'd like to share with you. It's easy and quick. It's gluten-free and it's flexible — as other fruit comes into season, I'm sure substitutions can be easily made. It didn't turn out as fluffy as some soufflés might but I think that was mostly because over the altitude here in the Denver area. It did, however, have an almost cake-like texture that I really liked and found that it went very well with coffee. 
I didn't pay any attention to the admonition to use organic washed cane sugar and used regular brown cane sugar. The organic washed cane sugar would probably be a nice addition especially sprinkled on the top at the end.  
LEMON-RICOTTA SOUFFLÉ WITH BLUEBERRIES 
This warm, puffy dessert can be made with raspberries or blackberries with equally great results. 
YIELD: 6 – 8 SERVINGS 
1/2 cup sugar, preferably organic washed cane sugar 
6 large eggs 
Grated zest of 1 lemon 
1 pound whole-milk ricotta cheese 
1 pint blueberries 
1. Set a rack in the lower third of the oven and preheat to 375°F. Butter a 9-inch pie plate or baking dish. Set aside 1 tablespoon of the sugar. 
2. In a medium bowl, whisk together the eggs, remaining 7 tablespoons of sugar, and lemon zest. Add the ricotta and whisk until smooth. 
3. Pour the mixture into the pie plate and bake for 15 minutes. Top with the blueberries, sprinkle with the remaining tablespoon of sugar, and bake until just set, about 15 minutes more. Serve warm or chilled.